Business Etiquette and International Protocol
Seminars for Corporations
Do your executives possess the polished soft skills and business etiquette knowledge to best represent your company in today's global business arena?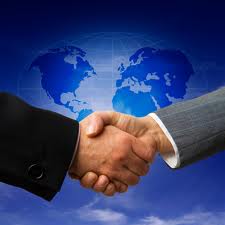 In today's competitive global marketplace, knowing the rules of proper business etiquette is mandatory. The personal and professional demands placed on business executives today surpass any experienced in the past. The savvy executive must be able to explore new markets, develop opportunities worldwide, and master the techniques necessary to outclass the competition.
Success in getting, keeping and advancing in a job depends 85 percent on soft skills, or "people" skills, and 15 percent on technical knowledge and skills, according to three separate research projects by Harvard University, the Carnegie Foundation, and the Stanford Research Institute. 
First impressions are lasting.
People form these impressions quickly and often unconsciously. Appearance is important, not only in first impressions, but also in ongoing interactions. In his comprehensive research on communication, sociolinguist Albert Mehrabian found that in a face-to-face encounter, 7 percent of a verbal message comes from the words used; 38 percent comes from the vocal tone, pacing and inflection; 55 percent of the message is transmitted by the speaker's appearance and body language.
The corporate executive not only represents himself, but he is also the 'face' of the organization he represents.
THE ETIQUETTE OF NEW YORK endeavors to be a partner for our client's organization, its management team, mission, and corporate culture in equipping its executive talent with the all-important business etiquette knowledge and soft skills required for success in today's global arena. We have partenered with multinational clients in the financial services, accounting, pharmaceutical,  hospitality, and retailing and manufacturing industries. Past and current clients include IBM, HSBC, Cartier, the Lowell Hotel, NYSE, MazurWeisers, and many others. 
Our world-class "Outclass the Competition" business etiquette and international protocol seminars and private executive coaching workshops will ensure that your organization and your team are ready to successfully compete in the global arena.
Corporate Seminars
I. Outclass The Competition: Business Etiquette
Topics include: Etiquette and protocol defined; benefits of etiquette and protocol intelligence; appearance and first impressions; how to distinguish yourself from the competition; presence power points; protocol for business and social introductions; handshaking; how to make an entrance and work the room; improving your mingling proficiency; remembering names; business card protocol; electronic communications; and perfecting your professional style.
II. Dine Like A Diplomat
Topics include: Business entertaining; receiving lines; host and guest duties; toasting; styles of eating; silverware savvy; American and Continental styles of eating; hands-on dining tutorial; conversation at the table; eating various foods; dining dos and don'ts; and world-class dos and don'ts.
III. How To Succeed In The International Arena
Topics include: Broaden your global awareness; the benefits of etiquette and protocol intelligence; master the first meeting; first impressions and appropriate business attire; business customs and terminology; electronic communications; importance of rank and status; business card protocol; world class handshakes; how to project cultural awareness; global conversation skills, and more.
IV. Polish Your Professional Image
Topics include: Importance of first impressions; visual, vocal and verbal impressions; image through dress; wardrobe tips for women; wardrobe tips for men; importance of quality briefcases and writing instruments; fragrance and accessories management; smart dressing for professional women; smart dressing for professional men; how clothing colors impress; and, body language.
V. Talent Development One – Day Outclass The Competition Seminar
Executive Presence, Polish and Protocol
This comprehensive one-day seminar encompasses three of the seminars– "Outclass the Competition–Business Etiquette," "Dine Like a Diplomat," "Polish Your Professional Image," and selected topics from the "How to Succeed in the International Arena"–that are outlined above. It may be scheduled for corporate retreats or on-site training.
These PowerPoint presentations are accompanied by activities that were developed to reinforce the verbal and written lessons. Participants will be provided with a workbook and engage in interactive exercises.
Custom On-Site Briefings and Seminars: Customized solutions are available for corporations who desire a higher level of business etiquette intelligence. Schedule one seminar, or schedule several seminars for a full day of invaluable business etiquette training for the professionals in your organization. Our audiences range from new professionals in the workplace to seasoned executives.
HR Partnerships: Let The Etiquette School of New York partner with your HR department to present customized and coordinated presentations to your corporate employees. We can implement your executive training programs, creating more dynamic and memorable seminars.
Train-the-Trainer Program
Become certified to teach The Etiquette School of New York's "Best-in-Business–Corporate Etiquette and International Protocol" program. This three-day certification program is only offered to individuals on a private, one-on-one basis in Manhattan. For more information, please e-mail Patricia Napier-Fitzpatrick at pfitzpatrick8@nyc.rr.com or call 212-288-5413.
Testimonials:
 Thank you again for your great, informative training session yesterday. My colleagues and I enjoyed your presentation a lot and learned valuable insights that will enable us to "Outclass the Competition." - Corporate Client
It was a pleasure having you with us. The group truly enjoyed it and got more out of it than they expected. The individualized coaching was perfect. -Corporate Client
Thank you again for coming to enlighten us and to enjoy and enhance our lovely meal with your tips and suggestions. -Corporate Client
It was a great class. All the students were practicing and talking about it today. They really understood the importance of good manners when you were done. - Corporate Client