Children's Classes:
Essential Manners and Social Skills
We invite you to view our Classes page (About Section) to register your child in our Basic Manners and Social Skills Series for Spring or  Summer Camp.
You may also form your own group or schedule a private, one-on-one class for your child.
The ETIQUETTE SCHOOL OF NEW YORK in Manhattan is dedicated to developing  excellent social skills in children of all ages by building solid foundations for learning and using proper etiquette, good manners and kind and considerate behavior toward others. When children learn the importance of treating others with kindness, consideration and respect, they will be less likely to engage in bullying, and will model the behavior that will make them leaders in their schools.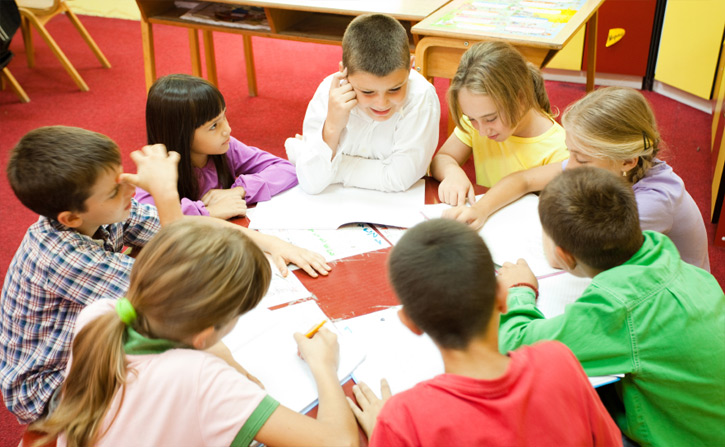 The training for a child's successful future life begins early. Polite, well-mannered children get along better with their peers, as well as their teachers and parents. Good manners and subtle social graces are not inborn; they are learned. Etiquette and manners must be practiced just as one would practice tennis, soccer or playing the piano. When a behavior is repeated often enough, it becomes automatic.
The ETIQUETTE SCHOOL OF NEW YORK'S character-building classes empower children by providing them the age-appropriate knowledge, good manners, and social skills to help them successfully manage their daily activities, and face new situations with greater ease and self-confidence.
Children's Etiquette Classes: Essential Manners and  Social Skills
Ages 4 to 7 and Ages 8 to 12
The school's six-session etiquette program for children is designed to maximize each child's awareness of proper etiquette, good manners, social skills, and civility.
For children in middle school, it is a particularly crucial time in their development. Our classes will provide them with a greater degree of self-confidence and the social skills to help prepare them for the even more challenging situations they will face as high school students.
Classes are fun and interactive, and include role-playing. Presentations and activities vary by age-group, but the core content is the same. Our program is offered to individuals on a private, one-on-one basis, or to private organizations and schools to schedule for their members or students.
SESSION ONE: FIRST IMPRESSIONS: GREETINGS, ATTITUDE, AND BODY LANGUAGE 
Topics include: Introduction to why good manners matter; good impressions and greetings; how to shake hands with good posture and eye contact; how to make proper introductions; how to walk, sit and stand with confidence; attitude and body language; how we sound to others; dressing appropriately; and personal grooming musts.
SESSION TWO: BASIC ETIQUETTE FOR HOME, SCHOOL, AND PUBLIC PLACES
Topics include: Everyday basic manners; kindness counts; bullying hurts; respect and courtesy at home and in public; when it is appropriate to stand; appropriate behavior for public places; good sportsmanship; what it means to be a good friend; host and guest etiquette; and play date and party manners.
SESSION THREE: CONVERSATION AND COMMUNICATION SKILLS
Topics include: Choose your words; conversation and listening skills; unacceptable discussion topics;how to enter and graciously exit conversations; giving and receiving compliments;telephone and cell phone etiquette; social media dos and don'ts; public speaking and presentation skills;  how to write a proper e-mail; thank-you notes; invitations and RSVP; and addressing envelopes with correct titles.
SESSION FOUR: LEADERSHIP, CHARACTER AND LIFE SKILLS
Topics include: The 6 pillars of character; mind mapping; leadership qualities; planning and team-building skills; learning how to get along with different types of people; confidence-building exercises; getting organized; and setting goals.
SESSION FIVE: SPEECHES, REVIEW, AND PREPARATION FOR DINING CLASS
Student speeches, review of material from the first three classes, and preparation for dining skills and table manners class.
SESSION SIX: DINING SKILLS AND TABLE MANNERS
Topics include: The ABC's of table manners, understanding place settings, the four uses of the napkin, the bread plate and how to properly eat bread and rolls, rules for eating soup, how to correctly hold and use utensils, using the knife as a fence and a pusher, dealing with unwanted food, passing food at the table, conversation at the table, and how to eat dessert with a spoon and fork.
Participants will receive a Certificate of Completion from The Etiquette School of New York, as well as instructive materials.
Private and Group Class Rates:
We invite you to organize your own group, and you may come to us or we will come to you to conduct any of The Etiquette School of New York's classes for children.
Private Lessons: $200/ one hour workshop at our office location on 64th Street between 2nd and 3rd Avenue.
For more information, please call 212-288-5413.
Summer Camps for Children and Teens
Ages 13 – 17: 12:00 p.m. to 2:00 p.m.
June 18th, 19th, and 20th
July 9th, 10th and 11th
Ages 8-12: 9:oo a.m. to 11:00 a.m
June 18th, 19th, and 20th
July 9th, 10th and 11th
Ages 5 – 8: 10 a.m. – 12: pm
June 25th, 26th, and 27th
Train-the-Trainer Program
Become certified to teach The Etiquette School of New York's trademarked "Essential Manners and Social Skills for Children" program. This two-day certification program is only offered to individuals on a private, one-on-one basis in Manhattan. For more information, please e-mail Patricia Napier-Fitzpatrick at pfitzpatrick8@nyc.rr.com or call 212-288-5413.