Social Etiquette and Business Protocol
Are you prepared to enter the professional business world when you graduate?
New and Recent College Graduates: We invite you to attend The Etiquette School of New York's Finishing School for Adults. It is the missing link between your education and success in the professional business world. Soft skills are the new hard skills! Employers are seeking persons with not only the technical skills and knowledge to perform a job, but they are equally, if not more so, interested in hiring persons who are team players and rapport-builders, with the social graces and interpersonal skills necessary to succeed in today's global marketplace.
College students and recent graduates receive a Certificate of Attendance, as well as a 10 percent discount. For additional details, kindly refer to the "Social & Business Etiquette Workshops" page on our Website.  Next class: Saturday, March 10, 2018.
Essential Manners and Social Skills For University Students
THE ETIQUETTE SCHOOL OF NEW YORK has developed the following four two-hour seminars designed to help make students feel more confident in social situations, business interactions, and at the dining table. These seminars can be tailored to fit the needs of any university group, such as sororities, fraternities, continuing education programs, and alumna/alumnus groups; and can be conducted on-site within your time frame. We are pleased to have presented our seminars to Princeton University, Columbia University, New York University, Simon Business School, Michigan State University, St. John's College, Iona College, the Stevens Institute of Technology, Siena College, Maritime College, and the Koppelman School of Business at Brooklyn College.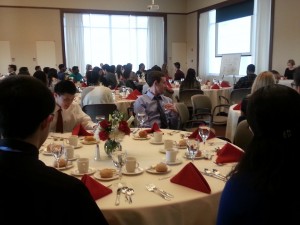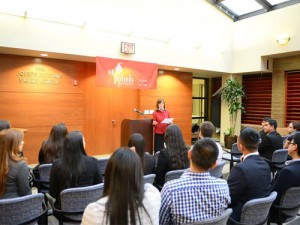 Since I have learned some basic protocols from you, although it must have been only a small glimpse of what you know, I felt that my social skills have improved a lot. But I still have a long way to go, especially, with real practice… And wanted to tell you that I love your high standards.   – International Relations Graduate
Thank you so much for coming and for helping our students.  I think they learned quite a lot as did I.  – St. Johns Career Advisor
I want to sincerely thank you for your presentation and expertise yesterday, at our dining etiquette event. Your dynamic presentation and interaction with students truly added to the evening's success. – Career Development Administrator
It was wonderful having you. Several students contacted me saying they enjoyed the event. -Career Development Coordinator
It was great to see you! The students once again loved the workshop. – Career Development Director
I. Social Etiquette 101: Outclass the Competition
Research shows that 55 percent of the first impression we make on others is based upon our appearance; 38 percent is based upon our presentation, or body language; and only 7 percent on what we say the first time we meet someone. In this two-hour class you will learn how to make the most of your assets and dress for your goals, as well as the social polish necessary to help you project confidence and make a great first and lasting impression.
Topics include: How to introduce yourself; how to make proper social and business introductions; meeting and greeting skills; how to make an entrance and work the room; successful style; networking savvy and strategy; how to enter and gracefully exit conversations; how to improve your mingling proficiency; how to make small talk; and much more.
II. Strictly Business: Polished and Professional in a Corporate Environment
Eighty-five percent of success in getting a job, keeping a job, and moving up in an organization is due to people or "soft" skills; 15 percent is due to technical skills, or the knowledge required for a job. According to HR professionals and corporate executives, these people or "soft" skills and emotional intelligence skills are lacking in today's college graduates. The good news, however, is that these skills are much easier to learn than the technical skills it took years to learn; and yet, the lack of these basic skills can keep college graduates from achieving the dreams for which they worked so hard. This two-hour class will equip you with the essential leadership and social skills required to be polished and professional in the business world.
Topics include: How to distinguish yourself from the competition with your presence power points; handshaking and introduction basics; interview and business meeting protocol; how to build rapport for successful business relationships; professional business office decorum; electronic business arena communications; dressing appropriately for your profession; and much more.
III. Dining Etiquette and Table Manners: The Art of the Business Meal
Today, nearly half of all business transactions, including job interviews are conducted at the dining table; and there is no better, or possibly worse place to make an impression than at the table. Negotiating the minefield of place settings, table manners, and difficult foods while trying to hold a conversation can be stressful and challenging, but in our competitive, global business environment, polished dining skills are a must! This two-hour class will prepare you to dine with anyone, anywhere in the world.
Topics include: Table settings and how to read them; taking a seat, conversation, and posture at the table; the American and Continental styles of dining; how to correctly use your utensils–silverware savvy; the courses in a meal and how to eat them; the dos and don'ts of table manners; how to eat difficult foods; toasting etiquette; host and guest etiquette; and more.
IV. Successful Style: Perfecting Your Professional Image
Topics include: Importance of first impressions; visual, vocal and verbal impressions; image through dress; wardrobe tips for women; wardrobe tips for men; importance of quality briefcases and writing instruments; fragrance and accessories management; smart dressing for professional women; smart dressing for professional men; how clothing colors impress; and, body language.
V. Networking 101: How to Make an Entrance and Work the Room
This one hour seminar covers the following topics: How make an entrance; how to introduce yourself and others; how to shake hands with confidence; how to start a conversation, keep it going, and gracefully exit; acceptable and unacceptable conversation topics; how to project a positive image and make a good impression; how to gracefully handle food and beverages; the protocol for exchanging business cards; how to dress appropriately for the occasion; and the importance of RSVPs, thank-you notes, and follow-ups.
For more information or to schedule a class for your school of group, kindly e-mail info@etiquette,com or call 212-288-5413.
NEW:

Outclass the Competition:
Western Culture Business and Dining Etiquette Seminar
THE ETIQUETTE SCHOOL OF NEW YORK'S new half-day "Outclass the Competition: Western Culture Business and Dining Etiquette" seminar is geared toward preparing students for the new and often demanding social and professional situations they will face in the modern-day business world.  Whether it is preparing for a graduate school interview, learning how to feel confident at social mingling events, dining in a formal restaurant for an interview, or with a new boss or client,  this seminar will give students the real-world etiquette knowledge and soft skills that will give them the confidence they will need to successfully handle these situations.
The following topics will be covered:
 Benefits of Etiquette and Protocol Intelligence

 Positive First Impressions and Lasting Impressions

 Executive Level Body Language 

 Protocol for Business, Social and Self-Introductions

  Handshaking: The Ultimate Greeting

  The Art of Small Talk

  How to Network and Shine at Social Events

  Techno-Etiquette and Social Networking Dos and Don'ts

  Dress, Grooming and Style Advice

  Interviewing Tips 

  Business Meal Dining Etiquette and Table Manners
Included with Seminar: Illustrated workbook, four-course tutorial luncheon and a Certificate of Completion.
Fee: To be determined based upon the size of the group.
Please call  212-288-5413, or e-mail Patricia Napier-Fitzpatrick at info@etiquette-ny.com for more information, or to schedule an appointment.
Testimonials:
Thank you again for speaking with our students at the luncheon on Thursday. The students gave us very positive feedback and enjoyed the presentation. - Career Development and Professional Development Director.
I am writing to express my thanks for the session you hosted recently with our international graduate students through our Professional Pathways program. The feedback we received from the event was very positive. – University Client
I just wanted to thank you for your presentation and visit to campus yesterday. I have been getting great feedback from the students and it is something they really enjoyed. -University Client
Our students found that the event was helpful in understanding social and business etiquette, and thought that you were a great speaker–knowledgeable, friendly, elegant, and informative. -Business School Client
Thank you again for coming to Iona College. We are always happy to have you visit. -University Client
Thank you so much again. Always a pleasure having you at Stevens. – University Client
It was a pleasure to see you again last week. Your instruction to our students was impressive as we expected and well received. I hope that you will assist us next year as well. -Career Development Director
Thank you so much for coming and helping our students. I think they learned quite a lot as did I. -University Client
I have acquired a well kept secret in the lives of the fortunate. I think that if every young person had a chance to take your classes the future would be brighter.  – University Student
It was a pleasure having you conduct a networking seminar for our students yesterday. I received very positive feedback from everyone. -University Client
I just wanted to follow-up with you and say that our son was very happy with your class. He felt he learned a number of things, but most importantly gained confidence in himself. He taught us a number of things and also recounted the fun he had too! Thank you for what you do.-Parent of University Student
Thank you so much for a wonderful workshop! The students really enjoyed it. I will definitely contact you again soon about coming back to campus for more workshops. -University Client