Mini Charm School:
Deportment and Self-Presentation Class for Young Ladies
Ages 8 and Up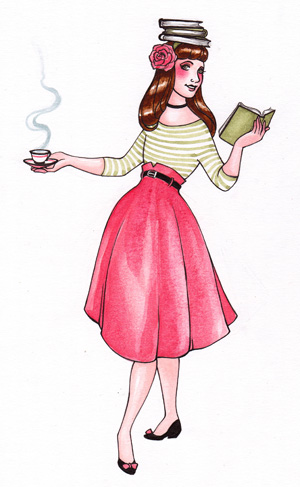 The girl who manages to present herself with confidence and poise in her everyday life will be seen as a girl who matters, not only to herself but to others. THE ETQUETTE SCHOOL OF NEW YORK's "Deportment and Self- Presentation Class for Young Ladies" will equip girls with the social acumen and self-presentation skills  that will enable them to feel confident in all of the situations in which they find themselves.  It was created to help launch poised, polished and polite young ladies into a successful pattern for life.
THE ETIQUETTE SCHOOL OF NEW YORK'S two-hour self-presentation class for young ladies is a mini-charm school for girls and of all ages. Parents are welcome to organize a group class, or may schedule a private class for their daughter. The class covers the following topics:
First Impressions and Image

Greetings and Introductions

Importance of Good Attitude and Positive Body Language

Carriage and Posture: How to Exude Poise and Confidence

Techniques for a Graceful Walk, and How to Sit and Stand like a Lady

How to Make an Entrance

How to Cultivate a Pleasant-Sounding Voice

Conversation and Communication Skills

How to Write a Proper Thank-You Note

Personal Style, Grooming, and Dressing Appropriately

How to Pose for a Photograph

Respect and Courtesy

Everyday Civility

Essential Table Manners

SHE IS A LADY
For private and group rates, please contact us.
SCHOOL INTERVIEW PREPARATION
Give your children the social skills they need to succeed in the Manhattan private-school interview process!
It is never too early to begin coaching your children in the basics of good manners. Their first school interview is now held when a child is only three years old. And yet he or she is expected to exhibit good manners when meeting with the school's admissions representative and interacting with the other children. As children get older, and they interview for kindergarten, and eventually high school and college, even though their grades and test scores will take center stage, their manners and social skills will, nevertheless, continue to be part of their evaluation.
In just one hour, your child will learn how to: introduce himself/herself and others, shake hands with eye contact, walk, sit and talk with confidence, and interview with ease.
Parents are also welcome to join their child for a family session.
Please call 212-288-5413, or e-mail Patricia Napier-Fizpatrick for more details, or to schedule an appointment.
How to be a Gentleman: For Ages 8 to 12 and Ages 13 to 17
The Etiquette School of New York is pleased to offer this two-hour class for boys and teenagers. You will learn what is expected of you if you want to be considered a gentleman in the modern world. Following are some of the topics that will be addressed in this class:
Basic Everyday Etiquette and Civility for a Gentleman at Home and in Public

Written and Verbal Communications

What a Gentleman Would Say

Host and Guest Duties of a Gentleman at Social Function

Gentlemanly Behavior with a Lady

Dating Etiquette

Grooming Guidelines

Dressing Appropriately for all Occasions

Social Events and Cocktail Parties

Social Introductions

Seating the Lady and Learning How to Shine at the Dining Table
For private and group rates, please call 212-288-5413.
Caroline: Adventures in Manhattan and Lessons in Etiquette
A heart-warming story about a nine-year old girl, Caroline, who discovers how wonderful it is to be a child in Manhattan when she goes to live with her Aunt Patty for a year, while her mother goes to Paris to study at The Culinary Institute. Through a carefully planned story of life in Manhattan and fun adventures in which etiquette is taught in real-life situations, Aunt Patty teaches Caroline to be a proper young lady. Caroline gets accepted to The Convent of the Sacred Heart, a private all girls school on the Upper East Side, attends charm school, visits the zoo and museums, makes new friends, goes ice skating in Central Park, and has many other exciting adventures. The story ends with "Christmas in New York," making it a perfect Christmas present.