The Etiquette School of New York
About the Founder
Patricia Napier-Fitzpatrick is the founder and president of THE ETIQUETTE SCHOOL OF NEW YORK in Manhattan, the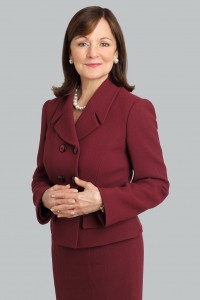 leader in protocol and etiquette training services in New York City.
Ms. Napier-Fitzpatrick is an internationally-recognized etiquette expert. She is certified in Etiquette and International Protocol, and Adult and Corporate Etiquette by THE PROTOCOL SCHOOL OF WASHINGTON. Additionally, she is certified in Children's and Teen Etiquette by THE AMERICAN SCHOOL OF PROTOCOL. Prior to founding her school eight years ago, she was a marketing executive in Manhattan at Estee Lauder and Bergdorf Goodman.
Ms. Napier-Fitzpatrick attended Greenbrier Junior College, an all-girls' boarding school, where she graduated with a college preparatory degree; and West Virginia University, where she was a member of the Delta Gamma Sorority, graduating with a Bachelor of Arts degree in Language Arts and Secondary Education.
Ms. Napier-Fitzpatrick has presented seminars to corporate executives, business organizations, academia, private clubs, and countless individuals of all ages. She has been featured in Business Week, the Financial Times, the Wall Street Journal, the New York Post, the New York Daily News, Time Out New York, am New York, and the New York Times, as well as numerous other newspapers outside of the New York City area; she has appeared on CNN, WNBC, WABC, WCBS, NBC, Access Hollywood, VH1, MTV, and CMT; and, she has participated in special BBC and NRP radio programs.
Ms. Napier-Fitzpatrick blends a professional and direct approach with her topics, and presents them in an interactive and entertaining format. She is dedicated to providing her clients with the most professional and up-to-date etiquette training. Ms. Napier-Fitzpatrick has a passion for sharing her etiquette and protocol knowledge with others, and strives to put her audience at ease while imparting that knowledge.
"With my corporate experience in New York City and my professional business etiquette and international protocol training, along with my ten years of working with countless persons, universities and corporations, I believe I am unquestionably qualified to teach the invaluable leadership skills and social graces that will enable young professionals and executives to polish their personal brands for personal and professional success."  Patricia Napier-Fitzpatrick
Founder, Director, The Etiquette School of New York